About the author
Federico Venturi was born on March 31, 1940, in Florence (Italy) and lived in Spoleto (province of Perugia, Umbria) until 1970 where he attended primary and secondary school.
In 1969, he took a degree in Natural Science at University of Perugia. The degree thesis was about Umbrian Mounts Trichoptera insecta.
From 1970, after his degree, he studied Paleontology and Jurassic ammonites of the Central Apennines (Umbria, Marche).
As associate professor of Paleontology at University of Perugia (Earth Science Department), he was the teacher of Paleontology Course for Geologic Science and Natural Science Department.
During his 39-year career he was the reference person for international journal and published more than 60 specialist research articles and two popular science books.
He identified 36 new genera typical of the territory and about 50 new specimens.
He studied the Toarcian evolution of Hildoceratidae (with morphological and functional considerations) and Hammatoceratidae ammonites.
In 1996 He found with his collaborators the stratigraphic interval containing Hildoceratidae ammonites (not internationally known until that moment) ascribable to the Tenuicostatum Chronozone.
In the Gran Sasso area he examined the Trias-Lias transition, in the Umbria-Marche area the Sinemurian-Pliensbachian and the Pliensbachian-Toarcian transition.
In 2006 He published an article about the relation between Pliensbachian ammonites of Mediterranean and the ammonites originated in the Andean Sea.
He is internationally known among the specialists studying the Early Jurassic and was a member of the commissions for the selection of stratigraphy sections between stage boundaries of geologic epochs.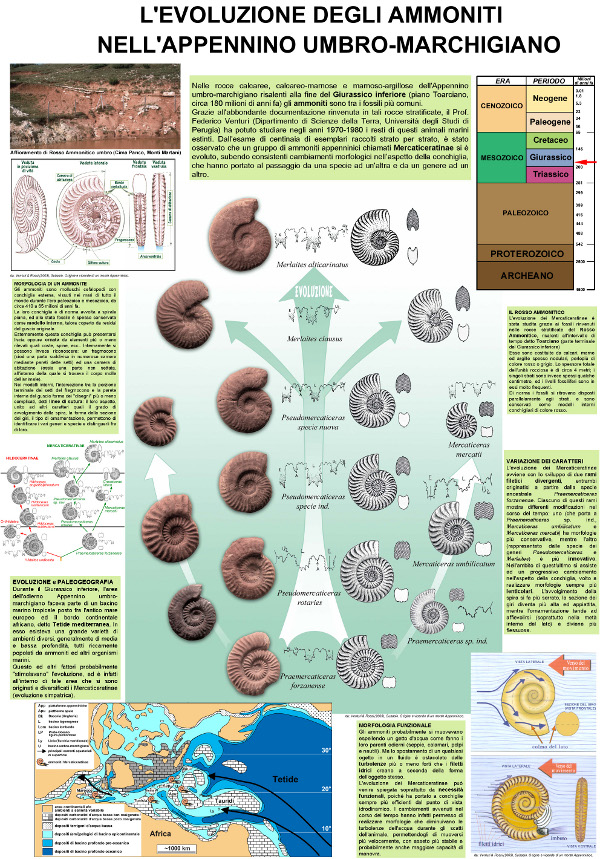 Evoluzione di Ammoniti Mercaticeratinae by Prof. Federico Venturi is licensed under a Creative Commons Attribuzione – Condividi allo stesso modo 3.0 Unported License.
Based on a work at www.viaggioefossiliappennino.org. Permissions beyond the scope of this license may be available at www.viaggioefossiliappennino.org.